Eva Reads About Andrew Jackson
22/04/2021
And finally it came time to read about Andrew Jackson.
I knew little about Jackson, and most of what I did know stemmed from a few lines of a song my dad used to randomly burst out singing:
WELL IN 1814 WE TOOK A LITTLE TRIP

WITH COLONEL ANDY JACKSON DOWN THE MIGHTY MISSISSIPP

WE TOOK A LITTLE BACON AND WE TOOK A LITTLE BEANS

AND WE WENT TO FIGHT THE BRITISH AT THE TOWN OF NEW ORLEANS

WE RAN THROUGH THE BRIARS AND WE RAN THROUGH THE BRAMBLES

WE RAN THROUGH THE PLACES WHERE A RABBIT WOULDN'T GO

WE RAN SO FAST THAT THE HOUNDS COULDN'T CATCH 'EM

AND WE RAN ALL THE WAY TO THE GULF OF MEXICO
(yes, my father was a great Burster Into Random Song) (and yes, I know that's not the precise words of the song; I'm quoting it exactly as he used to sing it).
Because I'm sure you're dying to hear this gem of a song yourself, knock yourself out:
Interestingly, this video is from the year my dad was born.
But enough nostalgic periphery.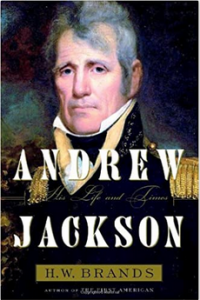 Andrew Jackson: His Life and Times H W Brands

This book was superbly well-written, easily the most engaging of the presidential biographies I've read so far (although McCullough's JOHN ADAMS would be a close second). It really sets the stage for all the events in Jackson's life by interestingly laying out the historical context all along the way. It's a book I know I'll enjoy reading again, as an amateur historian, as there was a lot I simply couldn't take in on one read-through. 
Jackson was an irascible dude, prone to duelling. One thing I found interesting was that the lead ball that remained in his body after one duel very likely was the cause of his health problems in his life afterwards (click here for an abstract about said lead poisoning findings).
Jackson is an intriguing political figure in that his loyal followers were so incredibly, almost cultishly devoted to him. (Does this sound familiar?) He also surrounded himself by a cabinet of close friends and colleagues who were already securely in his camp. (He got criticised for that, but made excuses.) He did brash and ridiculous things and was absolutely down with breaking any rules that stopped him doing exactly what he wanted.
One small thread that I wish Brands had come full-circle on was about Lyncoya, the Creek Native boy that Jackson brought home after slaughtering a bunch of the boy's tribe. (Click here to read an article here about Lyncoya.) Brands mentions that Jackson adopted him, but then never followed up on the boy's future, which was a brief and sad one and, in my opinion, doesn't at all compensate for Jackson's unfeeling attitude toward Natives, then and throughout his life. And he was a slave owner, of course. One of the "humane" ones. (I say "humane" with an eyeroll, since owning humans is intrinsically inhumane, even if you "try to not separate families".)
But I think that we should also recognise that Jackson's attitude wasn't just HIS attitude. This was a widespread problem with whites in general, and we should really be pointing the finger at the collective white population, not just Jackson. If the whites hadn't been land-hungry, had looked on the Native Americans as fellow humans instead of "savages in need of CiViLiSaTiOn", things could have been SO MUCH DIFFERENT, and so much heartbreak could have been saved.
Just like if white people today, myself included, are willing to speak up and fight against injustice to any people of colour in today's America. It's still a deadly serious problem. It's easy for us to look back at people of Jackson's time and say, "How could they BE like that?? I would never!!!!"
But DO we?
Eva was born in Jacksonville, Florida. She left that humidity pit at the age of three and spent the next twenty-one years in California, Idaho, Kentucky, and Washington before ending up in Oregon, where she now lives on a homestead in the western foothills with her husband and five children, two of whom are human.