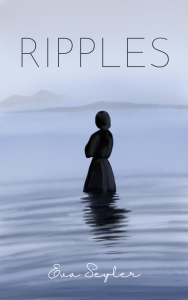 Alice Rothmann has been content with her quiet, ordinary life in Oxford with her quiet, ordinary husband. But when he dies suddenly, she finds herself adrift and lonely, and before she knows it she's deeply attracted to her neighbour, George Graham.
There's only one hitch: George is married to Alice's best friend.
Order the book (ebook, audio narrated by Jayne Entwistle, or paperback) from your distributor of choice at this universal link.
This novella is my response to the several people who read the first edition of The War in Our Hearts and said "WE WANT MORE GEORGE."
It takes place during and after the timeline of TWIOH, and does contain some spoilers for TWIOH, but neither story depends on having read the other.
For content warnings, click here.

Praise for Ripples:
Karen Heenan, author of Songbird:
A brief, evocative love story that tells the tale of George Graham, a secondary character in the author's earlier novel, The War in Our Hearts., and how he blew up his life for love. Married George and widowed Alice are an unlikely couple, but maybe that's why they work. Their gradual falling in love, and that love's repercussions, is beautifully handled, and I appreciated the quiet realism of their attempt at the happily ever after that they deserve.
Heather McBriarty, author of Amid the Splintered Trees:
This is the more George we all wanted. Proof of how beautifully 3 dimensional Eva Seyler's characters are, this George is so much more than the scoundrel his brother thinks he is. Touching, tragic and ultimately uplifting, this is a beautiful novella.