Historical Fiction Debuts in 2020
11/04/2020
I am super excited to welcome more up-and-coming historical debut authors to the wild and wonderful world of publishing. I can't wait to get my hands on these new titles!
*To order/preorder, click on the title.
*For more information about the authors, click on their names to go to their websites.
***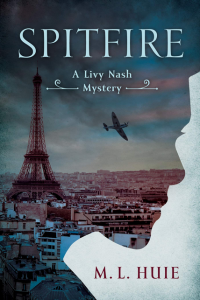 Spitfire / Releasing 2020-01-07
M L Huie
Livy Nash couldn't open her eyes.
How far would you go for vengeance?
It's V-E Day 1946 in London. World War II is long over, and former spy Livy Nash is celebrating with her third drink before noon. She went to war to kill Nazis. Dropped behind enemy lines as a courier, she quickly became one of the toughest agents in France. But her war ended with betrayal and the execution of the man she loved. Now, Livy spends her days proofreading a demeaning advice column for little ladies at home, and her nights alone with black market vodka.
But everything changes when she meets the infamous Ian Fleming. The man who will create the world's most sophisticated secret agent has an agenda of his own and sends Livy back to France with one task: track down the traitor who killed the only man she ever loved. Livy jumps at the chance, heading back to Paris undercover as a journalist. But the City of Lights is teeming with spies, and Livy quickly learns just how much the game has changed. With enemies on every corner and ever-shifting alliances, she'll have to learn to fight a new war if she wants to conquer the past once and for all.
***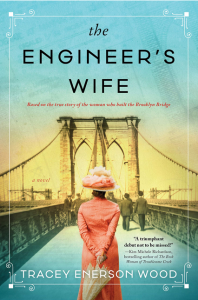 The Engineer's Wife / Releasing 2020-04-07
Tracey Enerson Wood
The light, sweet honey scent of burning candles did not quite mask the odor of blood and sweat in the makeshift ballroom.
Emily Warren Roebling refuses to live conventionally―she knows who she is and what she wants, and she's determined to make change. But then her husband Wash asks the unthinkable: give up her dreams to make his possible.
Emily's fight for women's suffrage is put on hold, and her life transformed when Wash, the Chief Engineer of the Brooklyn Bridge, is injured on the job. Untrained for the task, but under his guidance, she assumes his role, despite stern resistance and overwhelming obstacles. Lines blur as Wash's vision becomes her own, and when he is unable to return to the job, Emily is consumed by it. But as the project takes shape under Emily's direction, she wonders whose legacy she is building―hers, or her husband's. As the monument rises, Emily's marriage, principles, and identity threaten to collapse. When the bridge finally stands finished, will she recognize the woman who built it?
Based on the true story of the Brooklyn Bridge, The Engineer's Wife delivers an emotional portrait of a woman transformed by a project of unfathomable scale, which takes her into the bowels of the East River, suffragette riots, the halls of Manhattan's elite, and the heady, freewheeling temptations of P.T. Barnum. It's the story of a husband and wife determined to build something that lasts―even at the risk of losing each other.
***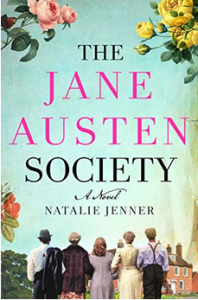 The Jane Austen Society / Releasing 2020-05-26
Natalie Jenner
He lay back on the low stone wall, knees pulled up, and stretched out his spine against the rock.
Just after the Second World War, in the small English village of Chawton, an unusual but like-minded group of people band together to attempt something remarkable.
One hundred and fifty years ago, Chawton was the final home of Jane Austen, one of England's finest novelists. Now it's home to a few distant relatives and their diminishing estate. With the last bit of Austen's legacy threatened, a group of disparate individuals come together to preserve both Jane Austen's home and her legacy. These people—a laborer, a young widow, the local doctor, and a movie star, among others—could not be more different and yet they are united in their love for the works and words of Austen. As each of them endures their own quiet struggle with loss and trauma, some from the recent war, others from more distant tragedies, they rally together to create the Jane Austen Society.
A powerful and moving novel that explores the tragedies and triumphs of life, both large and small, and the universal humanity in us all, Natalie Jenner's The Jane Austen Society is destined to resonate with readers for years to come.
***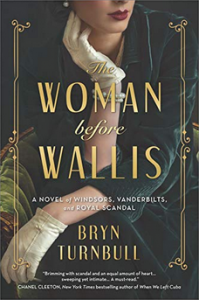 The Woman Before Wallis / Releasing 2020-07-21
Bryn Turnbull
In the summer of 1926, when Thelma Morgan marries Viscount Duke Furness after a whirlwind romance, she's immersed in a gilded world of extraordinary wealth and privilege. For Thelma, the daughter of an American diplomat, her new life as a member of the British aristocracy is like a fairy tale—even more so when her husband introduces her to Edward, Prince of Wales.
In a twist of fate, her marriage to Duke leads her to fall headlong into a love affair with Edward. But happiness is fleeting, and their love is threatened when Thelma's sister, Gloria Morgan Vanderbilt, becomes embroiled in a scandal with far-reaching implications. As Thelma sails to New York to support Gloria, she leaves Edward in the hands of her trusted friend Wallis, never imagining the consequences that will follow.
Bryn Turnbull takes readers from the raucous glamour of the Paris Ritz and the French Riviera to the quiet, private corners of St. James's Palace in this sweeping story of love, loyalty and betrayal.
Eva was born in Jacksonville, Florida. She left that humidity pit at the age of three and spent the next twenty-one years in California, Idaho, Kentucky, and Washington before ending up in Oregon, where she now lives on a homestead in the western foothills with her husband and five children, two of whom are human.