GIVEAWAY TIME!
11/03/2019
Today is twelve days to the release of "The War in Our Hearts" (!!!!), and to celebrate, I am giving away some pretty things! I've made some poppy pins and penny rugs out of felt, and three lucky people will get one of the following:
Prize #1: a signed copy of TWIOH, one penny rug, and one poppy pin.
Prizes #2 and #3: one penny rug and one poppy pin.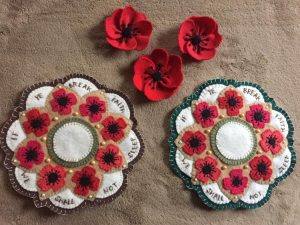 Open worldwide. I will draw winners' names on release day, the 24th.
TO ENTER:
Comment on this post and tell me if you'd choose the green or brown penny rug.
FOR EXTRA ENTRIES:
*Go to my Twitter, Facebook, and Instagram giveaway posts and follow the instructions there!
*Let me know if you've pre-ordered the book (https://books2read.com/u/bzLo0D)
FINE PRINT STUFF:
If your name is drawn, I will contact you to get your address. If I haven't heard back from you in 48 hours, I'll draw another name.
The penny rugs are roughly 8″ rounds. They are the perfect size to set a battery-operated candle on. The pins are roughly 4″ round.
Eva was born in Jacksonville, Florida. She left that humidity pit at the age of three and spent the next twenty-one years in California, Idaho, Kentucky, and Washington before ending up in Oregon, where she now lives on a homestead in the western foothills with her husband and five children, two of whom are human.