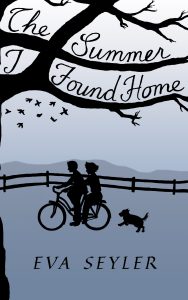 Oregon, 1925. Like his semi-reclusive parents, ten-year-old George Graham doesn't have friends, preferring to live inside the safe and predictable world of his books. This all changes when his classmate Louise Pearson, new to town, befriends him. Curious about his family's secrets, and with plenty of her own, the pair become an irrepressible, inseparable team, bantering and bickering their way through what turns out to be an unforgettable summer.
Louise's quick brain puts together the scattered clues she and George scrounge up about his parents' past. They discover that George's dad has another family back in England—a wife and four daughters—and that he's still sending them almost every penny he earns. Hoping for answers, Louise writes to the eldest of George's half-sisters, Susan, never expecting Susan herself to turn up on the family doorstep unannounced. And all the long-held family secrets begin to unravel.
Preorder the book (ebook or paperback) from your distributor of choice at this universal link.
For content warnings, click here.

The Deleted Synaesthete Headings
Photos of Turner:
MAPS!
Drawn by me!