Eva Reads About WWI, Installment #8
11/03/2019
Installment #1 * Installment #2 * Installment #3 * Installment #4 *
Installment #5 * Installment #6 * Installment #7
Note on my star rating system:
5 stars=Amazing, have read more than once or definitely will read again, highly recommend.
4 stars=Excellent, may not ever re-read but the quality was superb and highly recommend.
3 stars=Good, a solid read.
2 stars= Just okay, not that impressed, but also not horrible, and probably I will forget all about it soon.
1 star=The only reason I finished reading this was so I could rant/snark/complain about it 100% fairly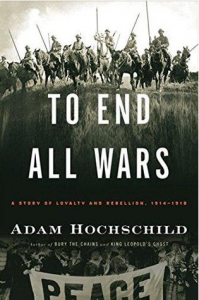 (Adam Hochschild) ★★★★
I enjoyed this one so thoroughly. It looked at WWI from an angle I haven't seen addressed in any other book and dealt with the conscientious objectors, women, people who opposed the war, and such like. Highly recommend.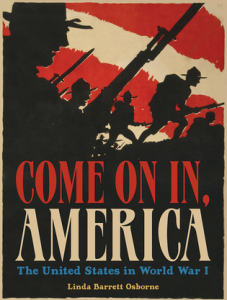 (Lisa Barrett Osborne) ★★★
This was a great overview of America's part in the war. I love YA history books. So many pictures and quick to read.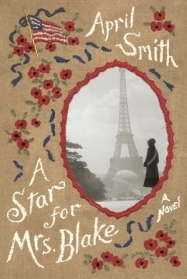 (April Smith) ★★
This was kind of blah. The premise was interesting–the story of the Gold Star Mothers, about whom I'd never heard–but there were so many characters and plots going on and I wished that the author would have focused more exclusively on say 4 characters than 10 or whatever it was and fleshed them out more. It wasn't a terrible book, it just felt like it had too much going on for too many characters, a number of whom I didn't really care about.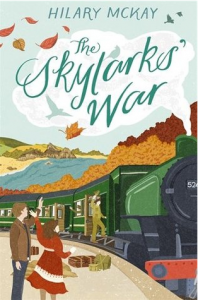 The Skylarks' War (Love to Everyone)

(Hilary McKay) ★★★★★
I CANNOT SAY ENOUGH GOOD THINGS ABOUT THIS BOOK LET ME SCREAM ABOUT IT IN ALL CAPS WILL THAT DO???
NO???
Okay, so I love Hilary McKay, full stop. I've been excited about this book ever since I heard it was coming out and have read it twice already – first an ARC, then the UK version that I bought. I love the characters, I love the story, I love McKay's dry quirky sense of humour, and the way she manages to write for kids (my 6 and 9 year olds enjoyed sitting in to listen when I was reading this over the phone to a friend) whilst maintaining a depth that bears many re-readings.
I just want to be McKay when I grow up, thank you for coming to my TED talk.
Eva was born in Jacksonville, Florida. She left that humidity pit at the age of three and spent the next twenty-one years in California, Idaho, Kentucky, and Washington before ending up in Oregon, where she now lives on a homestead in the western foothills with her husband and five children, two of whom are human.