Eva Reads About WWI, Installment #6
10/02/2019
Continuing….!!!
(For installment #1, go here, for #2, go here, for #3 go here, for #4 go here, and for #5 go here.)
Note on my star rating system:
5 stars=Amazing, have read more than once or definitely will read again, highly recommend.
4 stars=Excellent, may not ever re-read but the quality was superb and highly recommend.
3 stars=Good, a solid read.
2 stars= Just okay, not that impressed, but also not horrible, and probably I will forget all about it soon.
1 star=The only reason I finished reading this was so I could rant/snark/complain about it 100% fairly
(Chris Bohjalian) ★★★
As I've mused on what WWI topics to address in future novels of my own, I've toyed with the idea of doing something set in the Middle East – but honestly, it's an area of the world that is very alien to me, and I'm not sure that at this point I could do it justice. So I was very interested when I found out about The Sandcastle Girls! I know of no other historical fiction novel like it.
Things I really liked about this book:
It deals with an aspect of WWI that nobody else has addressed – the Armenian genocide.
It tells the story frankly and emotionally.
Thing I wasn't as fond of:
The back and forth narration (basically a present-day descendant of Armenians learning the story of her ancestors).
I would have been happier, and this is probably just a matter of taste, by just having the historical narrative uninterrupted. That kind of literary device can be awesome, but it just didn't work for me in this case.
However, because of the importance of the subject matter of the book, I'd really recommend you give it a read, because it's important that we educate ourselves on a part of history that has been actively denied ever since it happened.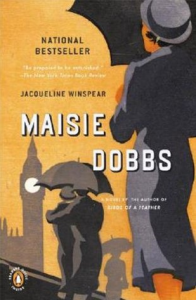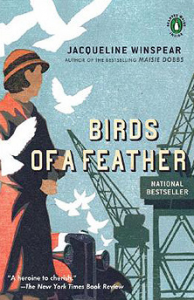 Maisie Dobbs/Birds of a Feather

(Jacqueline Winspear) ★

I love these books' covers and because there is a whole slew of them, I was excited to try them, since Maisie was a nurse in WWI (the books themselves are set post-war, but there are plenty of flashbacks).
I really disliked the first book, because it was less story than endless, meandering flashback. I didn't like Maisie. I don't care about philosophy and her pretentiousness. The writing was tedious.
Birds of a Feather was better; it had an actual plot. Still, not that hot. I started the third one and partway through the first chapter I said to myself, "I just can't handle any more of this" – and moved on.
There's so much mysticism and intuition and just…woo…about Maisie's detective work. It feels like cheating, like she doesn't have to use her brain to figure anything out as long as she meditates and whatever. It drove me bonkers. I do not understand how there are so many of these published and who in the world is actually READING them.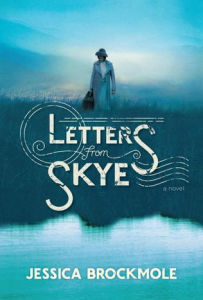 (Jessica Brockmole) ★★

The readers of the audiobook had delightful Scottish accents. Honestly, I believe I only finished the book for the Scottish accents.
Adultery plotlines are not my favourite thing anyway, but this one was particularly triggery because it reminded me of a close family member who basically did the modern equivalent of what the characters in this book did, and ended up breaking up the family because of an emotional attachment they formed via email/Facebook communication. It was traumatic for me, and so I wasn't at all invested in rooting for anyone in Letters From Skye and mostly was just irritated at the choices they were making and just…argh. Anyway.
The writing was beautiful, though. I totally was on board with the author's style, and I'd read something else by her if the plot looked promising.
Semi-related: the narrator for Letters From Skye, Elle Newlands, also narrated a YA book (that I listened to solely for the sake of her voice) called The Fragile Ordinary, which I ended up liking a lot.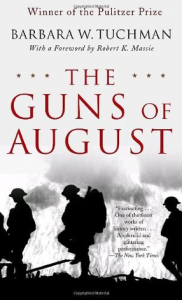 (Barbara W Tuchman) ★★★★
This book is one of the most famous WWI works people always recommend, and I read it even though it was outside the scope of the research I needed to do for The War in Our Hearts. It was very good, very well-written, and I'll likely be revisiting it when I get to finish a partially-written WIP whose plot starts shortly before the war begins.
-Eva
Eva was born in Jacksonville, Florida. She left that humidity pit at the age of three and spent the next twenty-one years in California, Idaho, Kentucky, and Washington before ending up in Oregon, where she now lives on a homestead in the western foothills with her husband and five children, two of whom are human.