Eva Reads About WWI, Installment #5
10/01/2019
Let's continue this series! I've been sadly neglectful of my blog for some months, but in my defense, I was writing a book. Which is coming out in March. I'm still writing a book, a different one, but I'm recovering from a nasty cold right now and just don't have the focus required to work on it, so I'm scheduling blog posts instead.
(For installment #1, go here, for #2, go here, for #3 go here, and for #4 go here.)
Note on my star rating system:
5 stars=Amazing, have read more than once or definitely will read again, highly recommend.
4 stars=Excellent, may not ever re-read but the quality was superb and highly recommend.
3 stars=Good, a solid read.
2 stars= Just okay, not that impressed, but also not horrible, and probably I will forget all about it soon.
1 star=The only reason I finished reading this was so I could rant/snark/complain about it 100% fairly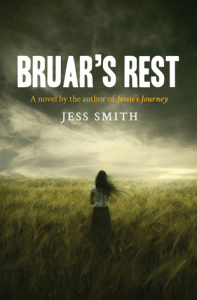 (Jess Smith) ★★★
I have a Scottish Traveller character in The War in Our Hearts (he wasn't originally a Traveller, he was sort of a Generic Character, until someone said "dude, MacFie is a super stereotypical Traveller name" and it snowballed from there.) I used the name because my Scottish ancestors were MacFees.
Anyway, so you can imagine my excitement to learn there was a novel about Travellers set before, during, and after WWI, written by a Traveller. Parts of this book were dark and unsettling to me, not going to lie, but it was a good story, and an invaluable resource for my research.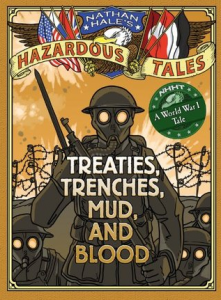 Treaties, Trenches, Mud, and Blood

(Nathan Hale) ★★★★

I got this via Overdrive from my library knowing it was a kids' book, but NOT knowing it was a graphic novel/comic, and I LOVED it. All the nations involved are represented as animals, and it explains technical things in a fun way that Very Visual Me really appreciated. My kids were very amused by it as well.
A couple screenshots: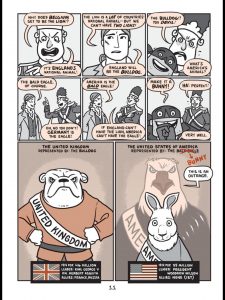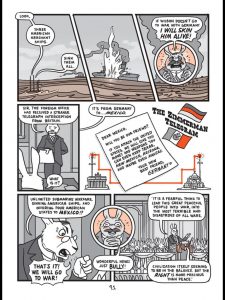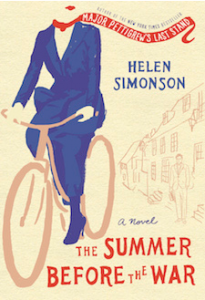 (Helen Simonson) ★★★★★
This book really should have a post of its own, but I haven't time to re-read it just now to give it what it deserves, so I'm going to go ahead and just mention it here. It was leisurely but never dull, and it feels to me like a story Elizabeth Gaskell might have given us. The characters are varied: some are annoying, but all feel very real, and I found that by the end I had sympathy for even the ones I originally didn't like at all. It also was my introduction to the fact that there were lots of Belgian refugees who came to Britain, a topic I plan to address myself in a future novel. I have a hard copy of this book, but it was the audio that I listened to originally, and it was fantastic.
I'd also like to just throw out there that, although there's a lot of flak out on Goodreads and such about Summer, I actually liked it far better than her first book. Major Pettigrew's Last Stand was good, but in my opinion, Summer surpasses it by far.
-Eva
Eva was born in Jacksonville, Florida. She left that humidity pit at the age of three and spent the next twenty-one years in California, Idaho, Kentucky, and Washington before ending up in Oregon, where she now lives on a homestead in the western foothills with her husband and five children, two of whom are human.